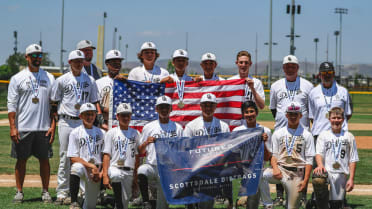 ABOUT THE FUTURES SERIES
All 2020 USA Baseball events and national team programs are subject to cancellation or postponement due to the evolving COVID-19 pandemic. Visit the USA Baseball COVID-19 Resource Page for updates.
---
The USA Baseball Futures Series are 10U, 11U, 12U and 13U youth championship events held throughout various parts of the country. The three-day, championship tournaments will be hosted in different parts of the United States allowing teams to compete with programs from all over to showcase their ability. As with the Futures Invitational, the events host the best teams from across the country featuring the top youth talent in the nation. Teams may email Futures@USABaseball.com with inquiries or for future event consideration.
The Futures Series tournaments will also serve as identification events for the USA Baseball Futures Invitational and the USA Baseball National Team Championships. Winners of each 10U Futures Series tournament will receive a bid to the following year's 11U Futures Invitational, while the programs that claim gold in each 11U Futures Series event will get a bid to the following year's 10U Futures Invitational. In addition, the winners of each Futures Series at the 12U age level will receive a bid to the next summer's National Team Championships.
---
Fall Futures Series Irvine
Irvine: Apply Here

When: August 28-30, 2020
Cost: $175 per player
Location: Orange County Great Park; Irvine, Calif.
Age Groups: 11U (born 2009 or later) and 13U (born 2007 or later): see the "General Information" section for additional registration and event information, including age eligibility, bats, and roster rules.
---
General Information
Dates:
The 2020 USA Baseball Futures Series Irvine will take place from August 28-30.
Age limits:
The 2020 USA Baseball Futures Series age limits are described below:
10U: Born January 1, 2010 or later
11U: Born January 1, 2009 or later
12U: Born January 1, 2008 or later
13U: Born January 1, 2007 or later

Bat Specifications:
The Futures Series will be a USABat-certified only event. USABat specifications and additional information can be found here.
Field Dimensions
Field dimensions for the USA Baseball Futures Series is as follows:
10U: 46' mound to plate, 65' bases
11U: 50' mound to plate, 70' bases
12U: 60' mound to plate, 90' bases
Roster Limits:
Rosters should include a minimum of 13 players and no more than 20 players, as well as a minimum of two coaches.
Schedule:
Teams are guaranteed four games at the Futures Series; however, teams that advance into the championship bracket may play five games (weather permitting).
Registration Package:
The registration fee covers the following items for the team and each participant included on the roster:
All event registration-related costs: baseballs, fields, line-up cards, umpires, etc.
USA Baseball premium player package inclusive of a player bag filled with products from official USA Baseball sponsors
Complimentary action photos
Free gate admission for players, coaches and parents at all Futures Series games
Team banner for each team participating in the event
Medals for the first, second and third place teams as well as a trophy and a banner for the gold medal winners

Hotel Information:
USA Baseball Travel Services is the official housing bureau for all USA Baseball tournaments and its service is available at no cost for all event participants. The Travel Services department works directly with local hotel properties surrounding the event to secure special rates and accommodations for our participants and their families. 
The Travel Services department is committed to providing you with outstanding service. If you have questions or concerns regarding lodging during a USA Baseball event, please do not hesitate to reach out to them via phone at (919) 433-9759 or through email at travel@usabaseball.com. Office hours are Monday-Friday from 9 AM-5 PM ET.