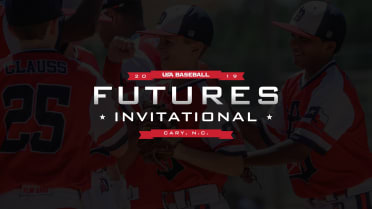 ABOUT THE FUTURES INVITATIONAL
All 2020 USA Baseball events and national team programs are subject to cancellation or postponement due to the evolving COVID-19 pandemic. Visit the USA Baseball COVID-19 Resource Page for updates.
---
The USA Baseball 10U and 11U Futures Invitational are elite youth championship events, exclusively reserved for top 10U and 11U teams and athletes. The 2020 11U Futures Invitational has been cancelled due to the evolving COVID-19 pandemic; however, the four-day 10U Futures Invitational tournament will be hosted at Thomas Brooks Park, which is home to the USA Baseball National Training Complex, the official training site of Team USA, in Cary, North Carolina. The event will host the best teams from across the country featuring the top youth talent in the nation.
10U Futures Invitational
When: August 6-9, 2020
Age Limits: Players born January 1, 2009 or later are eligible to participate in the 10U Futures Invitational.
Notes: See the "General Information" section below for additional information regarding the Futures Invitational.
---
General Information
Bat Specifications:
The Futures Invitational will be a USABat-certified only event. USABat specifications and additional information can be found here.
Contact:
Teams may email Futures@USABaseball.com with inquiries or for future event consideration.
Location:
The 10U Futures Invitational will be held in Cary, North Carolina, at Thomas Brooks Park.
Roster Limits:
Rosters should include a minimum of 13 players and no more than 20 players, as well as a minimum of two coaches.
Schedule:
Teams are guaranteed five games at the Futures Invitational (weather permitting).
Registration Package:
The registration fee covers the following items for the team and each participant included on the roster:
All event registration-related costs: baseballs, fields, line-up cards, umpires, etc.
USA Baseball premium player package inclusive of a player bag filled with products from official USA Baseball sponsors, included by not limited to Adidas, New Era, Gatorade and Majestic
Athlete performance testing
Complimentary individual and team photos
Free gate admission for players, coaches and parents at all Futures Invitational games and free gate access at the USA Baseball National Training Complex
Team banner for each team participating in the event
Medals for the first, second and third place teams as well as a trophy and a banner for the gold medal winners

Hotel Information:
Teams are required to use USA Baseball's free housing placement service, USA Baseball Travel Services. Friends and family are also encouraged to book hotel rooms under their team's name and will receive the USA Baseball preferred rate. A complete list of hotel options as well as additional details will be provided upon acceptance into the event.
The Travel Services department is committed to providing you with outstanding service. If you have questions or concerns regarding lodging during a USA Baseball event, please do not hesitate to reach out to them via phone at (919) 433-9759 or through email at travel@usabaseball.com. Office hours are Monday-Friday from 9 AM-5 PM ET.